Payroll Pro - new look main menu from version 2.47.
You may have noticed that the main menu in Payroll Pro has changed!
Here is the new look, with the old look underneath... Note that the image has been reduced in size a little to fit on a webpage, so the image is not as crisp as the real thing - you will see it is crisp and clear when actually using Payroll Pro.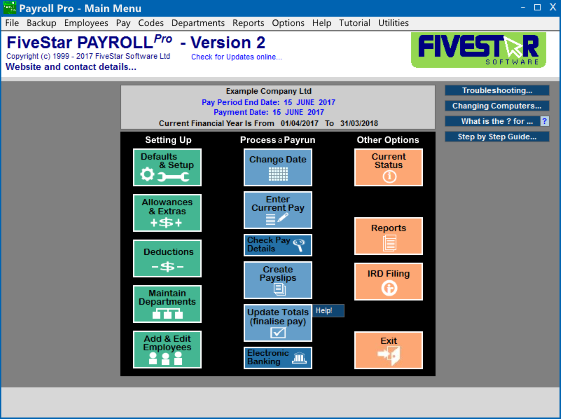 You can see the three columns now have different coloured buttons - this is to make it obvious at a glance that there are 3 categories - setting up, processing a payrun, and the other options.
We have also placed the "Electronic Banking" button underneath the "Update Totals" button since this is the logical order of processing the pay run. The two button "Check Current Pay Details" and "Electronic Banking" are slightly smaller with a slightly different colour to indicate that they are "optional".
And you will also see the new "IRD Filing" button. This is just to remind users that IRD Filing is available through Payroll Pro! The button will still take you to the reports menu, but the IRD options will be highlighted.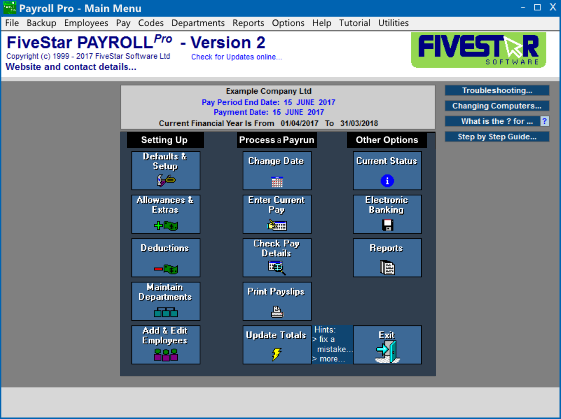 Previously - as seen in the image to the right, the "Electonic Banking" button was sitting to the right - this was a bit confusing for some new clients.
There also was no indication that the "Reports" button would take you to an area where electronic filing could be processed - so the new button "IRD Filing" was added (see above).
We hope you like the changes!
We have not yet updated all screen shots and videos to show the new look - we will slowly update these.