Payroll Pro - Your Payroll Solution
Payroll Pro allows you to process your pays quickly and easily!
You will never have to worry about tax or legislation changes again, we provide any software updates that may be required.
Payroll Pro also takes care of Holiday Pay rates. You will never need to worry about calculating holiday pay again! Payroll Pro automatically calculates all the rates required and highlights in yellow the most applicable rate for your employee.
Final Pays are calculated by just ticking a box! When entering current pay, just tick the 'Final Pay' box and Payroll Pro will calculate all the annual leave due to that date.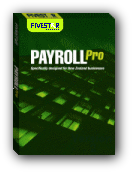 Latest version: 2.54
Containing tax rates
applying up to
31 March 2022
Payday filing included!
Holidays Act compliant!
KiwiSaver compliant!
Payroll Pro simplifies all aspects of your payroll from recording all leave, to uploading your IRD returns and electronic banking.
We have a comprehensive knowledge base on our support pages, which answers virtually all questions we have been asked, and the Payroll Pro tutorial/training videos can also be accessed for free. Of course you can also email or phone our Help Desk (click here for contact details). We don't charge our customers any extra for support!
Payroll Pro is payroll software developed in New Zealand for New Zealand conditions, and is compatible with all versions of Windows, right up to and including Windows 10. The full program can be downloaded from this web site, but is also available on CDROM with a trial licence (allowing up to 3 payruns before any payment is required).
Download Payroll Pro now and use FREE for up to 3 payruns!
You can use this option to download a full working copy of Payroll Pro right away. This will allow you to use all the features of Payroll Pro as a FREE TRIAL for up to 3 payruns. After you have seen how easy Payroll Pro is to use, you can purchase a full licence and continue using Payroll Pro without having to re-enter your data!
So, Download Payroll Pro today and find out why our customers are so relaxed about payroll!
And, have a look at our quick guide: Payroll Pro - Getting Started PDF

The following are just some of the features in Payroll Pro
Payday filing.
KiwiSaver compliant.
Holidays Act compliant.
Up to date PAYE calculations.
Employees can be identified numerically and alphabetically (by use of an alpha key of up to 10 characters).
Codes for allowances, deductions and departments can be defined with up to 4 alpha numeric characters. Eg Travel Allowance could have the code TRAV.
Allowances, deductions and departments can be given descriptive names of up to 30 characters.
Pick Lists - When entering an allowance, deduction, or department, a list of available items can be displayed in most areas allowing the user to easily select the required item. This avoids having to memorise codes.
Employee Notes - Three separate areas are available - a section for qualifications, an area for general notes, and a third area for a payslip message.
Sick Leave - Can be recorded in days or hours. (Cannot have some employees on one and some on the other, but can have fractions of a day eg 0.1 or 0.25 etc).
Holiday Pay - Can be recorded in days or hours. (Cannot have some employees on one and some on the other, but can have fractions of a day eg 0.1 or 0.25 etc). Alternatively, some employees can be put on a simple percentage method (eg 8% or other, of gross).
A pay history is kept for employees and departments (along with allowances and deduction totals for each pay run).
Check Pays - Before updating your totals, a report can be printed summarising the total hours, gross pay and PAYE for each employee who has been set as ready to be paid. This also shows the employees tax code and pay frequency to help avoid errors.
Status - A current status is available so that you can immediately see how many employees are defined in the payroll, how many are active and how many are ready to be paid.
Undo Update - An option to undo the last updating of totals is available to make error correction relatively easy.
Comprehensive reporting is available, with most reports giving a number of user options depending on the information required.
A number of different payslip options are available.
Password protection with up to two levels of passwords is provided.
For a list of new features added in the latest program updates, click here.