Showing and hiding balances on payslip
You can change the balance to be shown on individual employees payslips as follows. This can be done any time:
Select Enter Current Pay
Select the employee
On the payslip tab over to the right you will see the following under the heading "To show on Payslip".
This is just above the tax code, and below the "To be paid this pay run" button:


Click on any of these to turn the payslip balance on or off for this employee.
Additional Option for new employees added in the future
For any new employees added in the future, you can set the default settings for the above under "Defaults & Setup". Changing this will not effect any employees already on the payroll, it will only be used when setting up new employees. Here's how to do this:
Click on

Defaults & Setup

(the top button on the main menu in the left hand column of buttons)
Choose

Defaults 2

.
You will see sections for Holiday Pay, Sick Leave, and Other, which each have the payslip balance option.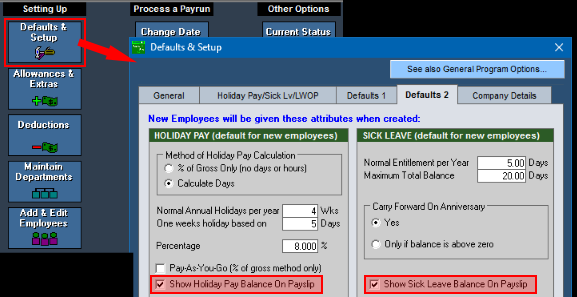 Holiday Pay - Including estimate of part year (accrued)
You can also show the holiday pay balance including an estimate of the accrued days (or hours) since an employee's last anniversary date. This will be shown both on screen and on payslips.
For example the normal setting as per the Holidays Act does not show an accrued estimate. These two examples are both the case where an additional 6 months have passed since the employees last anniversary date (entitlement date).
Holiday Pay Balance 20 days
With the accrued estimate option turned on, the balance on the bottom of the employee's payslip will be shown as:
Holiday Pay Balance 30 days (includes accrued estimate of 10 days)
Showing "Individual Days" on payslip
The option to show "Individual Days" is also given. If you are entering individual days into the time sheet, then ticking this option will show the days individually on the payslip. If this is not ticked, a summarised total will be given. As with leave balances, this can be turned on or off for individual employees at any time.