How to Update Payroll Pro (Version 2)
What to do if the new version number is not what you expected.
At the moment, you will probably have a box showing which is similar to this one:
If you have been advised that a particular update version is available but the latest update available in the download box shows your current version and not the new version, this probably just means that Windows has kept an old copy of the update version file. This can happen if the cache hasn't been cleared for a while. See below for an easy solution to this problem.
Easy solution
1. Click "Other Options" - the button showing just below the Cancel button.
2. You will then see the following:

3. Click "Selected Alternative"
4. Another box will appear. In that box type 572 (for the update to version 2.57b):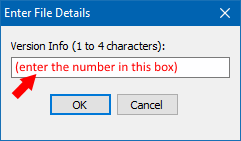 5. After typing this, click OK.
6. The update will now proceed as usual - follow any instructions, and Payroll Pro will be updated.